Got a notice yesterday requiring everyone to move away by 17:00 June 30th, the first time I see a notice from school with that precision. Seems that the efficiency of our colleges has a chance to be enhanced. But judging by the current situation, even if all those clerical people work at top speed to deal with graduation affairs, the graduation process won't be simplified. Household registration, documentation, coutless forms are to be filled and a number of departments need to be paid a visit. Graduation is easy?
Last week I went home during Duanwu holiday, passed by Hangzhou and dropped by old friends. We all have interesting things to do, hope it turns great years later. I should have climbed the mountain if I got up earlier. ZJU surronds the West Lake, and I am wondering why they didn't count the mountain and the lake into the campus area. At home, took a walk along the City Wall. The moat in front of the South Gate now is more clean and become a place where people can boat on. However I prefer they keep the water low and save the forests. You will be supriesd to find how good it is when the forest is used to block noise.
I stayed a night in Hefei on my way back to Shanghai. Locals didn't believe that I was there for travelling. They think Hefei has nothing interesting. Actually the city is well built, just missing some landmarks.
According to the schedule, the employment starts from July 1st. So the most importnat thing now is to find a proper place for the next few months. I have no experience in renting a house so I have to be as careful as possible. As for the Japanese learning, I am trying to spend more time on weekend to make up the absence caused by graduation affairs. A few words about the graduation activities, I hope it won't be filled with sadness, after all, where the trail ends, the next one begins.
About The Author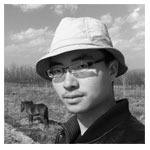 1 Responses to "The Last Month in Fudan"